• Native American Handmade Jewelry • Navajo Pearls • Squash Blossom • Vintage Turquoise
Jewelry is one of the best lifetime purchases you can make, especially if it's traditionally made and authentic handcrafted jewelry like Navajo jewelry. This type of beautiful jewelry has been around for hundreds of years and has been perfected by the Native American Indians.  Since authentic Navajo jewelry is gorgeous and has a rich history, you must buy from a genuine Indian jeweler and properly take care of your pieces.  If you're thinking of purchasing Navajo silver rings, bracelets, and other jewelry, it pays to know how to buy these pieces and care for them. In this article, we've covered...
---
Buying Navajo pearl jewelry is a great way to show pride in your Native American heritage and love for the culture. Each pearl is also handcrafted, and no pearl is alike, making each jewelry unique.  For instance, you can feel and appreciate each Navajo pearl on silver and turquoise bracelets and just marvel at the amount of time and effort poured into making each one. However, you do need to know a few more details to ensure that you understand what you are getting into when you buy these pearls. But don't worry, we've got you covered!  This article will...
---
• Native American Handmade Jewelry
A plain sponge cake doesn't look like much until it's jazzed up with frosting and toppings. In the same way, fashion accessories give flavor to an ordinary looking outfit.  Accessories are often considered investments by most women and men because these pieces add personality to an outfit and offer so many more opportunities to showcase an individual sense of style. They may be small items, but they have the power to complete one's look while exuding their taste, style, and preferences.  If you are still wondering why accessories are so well-loved by so many, here's our case for accessorizing more:...
---
• Native American Handmade Jewelry • Squash Blossom • Vintage Turquoise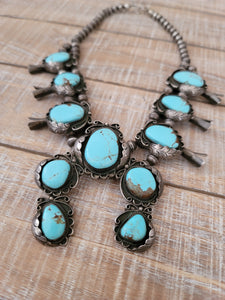 Turquoise is a beautiful mineral known for its unique, blue-green color. It is used in many pieces of jewelry and as accents on different accessories, like the American darling bags we have on stock at our store!  As beautiful as it is, turquoise is more than just a pretty stone. It holds great significance in Native American culture, with each tribe having different meanings for it. Often called the "stone of life," many believe that turquoise's ability to change color means that it's a living mineral.  This stone is often used to adorn clothes and accessories for traditional and modern-day...
---
• Native American Handmade Jewelry • Navajo Pearls • Vintage Turquoise
When you open a person's jewelry box, you'll often find sterling silver in there. Sterling silver is loved by many because of its brilliant shine, versatile look, and glamorous feel. Besides that, sterling silver is incredibly timeless, making it one of the most popular jewelry choices for people.  Jewelry is one of the lifestyle products that many people love to splurge on. Although it can be incredibly fun and exciting to purchase jewelry, nothing gives anyone a headache more than tarnished pieces of sterling silver. And though cleaning your jewelry is key to keeping it looking new and stunning, most...